May 2023 report: Progress at Salama, and news of a community visit to a former patient
News from Salama school for the blind is that after a number of delays and setbacks dealing with bureaucracy the ground breaking ceremony for the new dormitory took place on 6th April.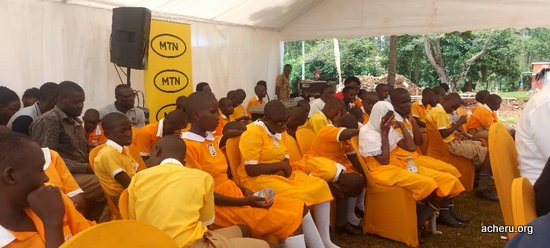 Some of the children at the Salama groundbreaking ceremony
The building is being sponsored by MTN, the Ugandan telecoms company, and this has created interest among other Ugandan companies who may now be interested in helping with other much needed improvements at the school. This is very encouraging, but we have concerns too. In all the years I have had links there Salama, while officially a government school, has been run as a Christian school under the headmaster Francis. Originally a pupil there himself, he led the school through some very difficult years to get to where they are now and it is the only home he knows. The fire, no blame for which attaches to anyone at the school, has nevertheless attracted a lot of attention and we now have serious concerns that there may be undue 'interference' from the Ministry of Education.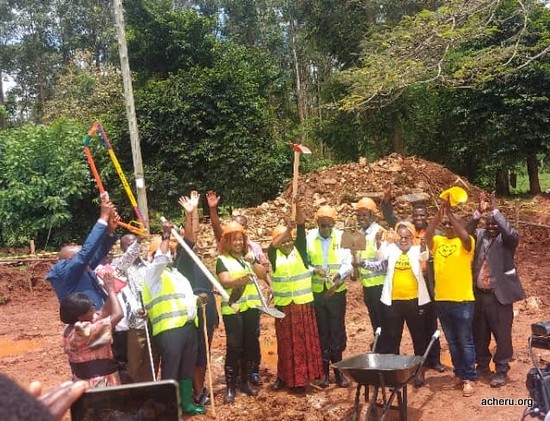 Groundbreaking ceremony for the new dormitory
Community team visit to Anyongo Kate:
I wrote about this girl last October, she had been 'found' by Acheru and taken for treatment, having suffered for many years. She has disabled siblings too which led to the break up of the family with the mother urged by the children to get away from a home where she was being badly abused by her husband.
The team were able to visit the home on their way to northern Uganda and found serious problems. Kate (who is still very ill), her brother Anthony, and her older sister Flavia, are all blind and have other problems including bones which fracture easily. When the Acheru team visited neither parent was around and Flavia was trying to care for Kate and Anthony.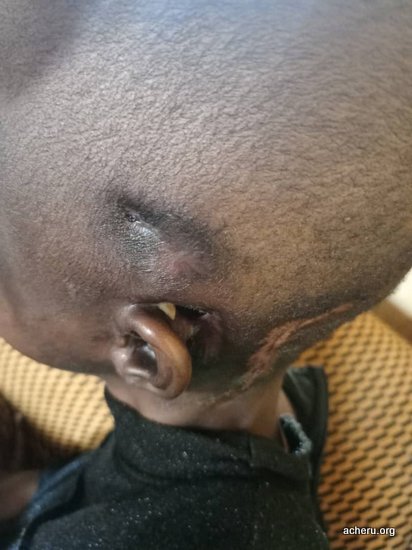 Kate's head wound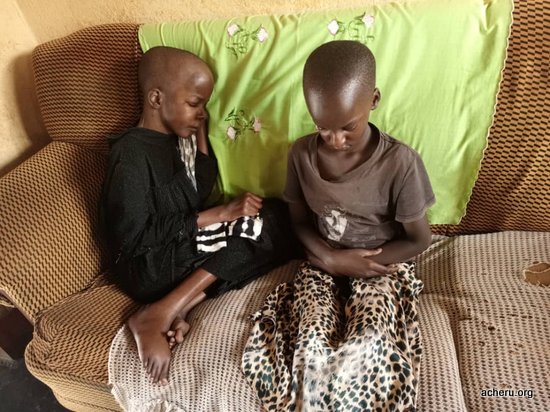 Kate and Flavia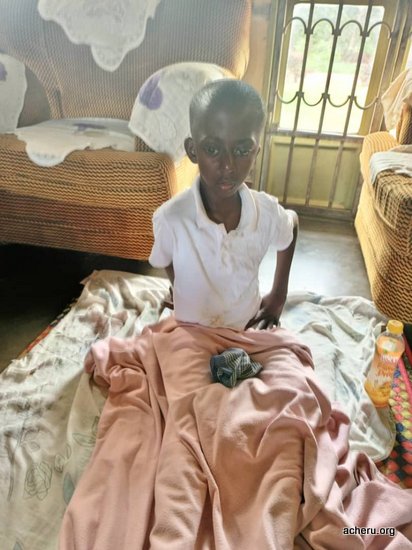 Anthony
There are many demands on the time and resources of the community team. A lot can happen between their visits so their aim is to try to involve the community more so that families with disabled children aren't left totally isolated. We've seen too many cases where even near neighbours weren't aware of what was happening. Community outreaches have done a great deal to raise awareness of disability and what can be done to help and I want to give all the encouragement I can to the workers involved.
I received the following report on March 23rd.
"We passed by their home as we travelled to Oyam/Gulu yesterday. We found them in a sorrowful situation. Kate is unwell. Do you remember her? She has been well until two weeks ago when her left ear began oozing pus. She looked anaemic and malnourished, she needs immediate attention. We found her brother with a fresh fracture.
"We found Anthony, Kate's 10 year old brother, in pain. He slid a week ago as he was going to the latrine following a heavy rain and he fractured his right femur, the thigh is swollen and he is in terrible pain. A traditional bone setter had attended to him. As we opened the fracture site we saw small cuts which they explained that he cut into him with a razor blade to put medicine which is black in colour, to correct the fracture.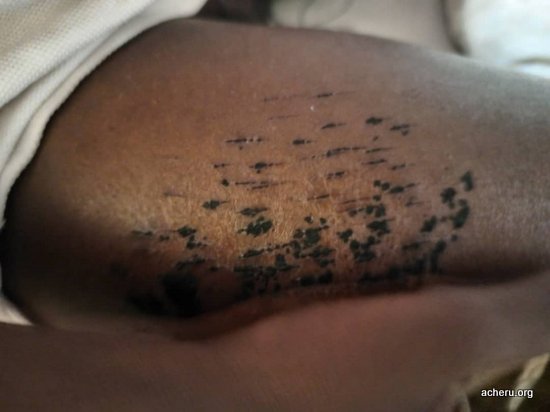 Anthony's broken femur with traditional 'medicine'
"Ignorance of parents can contribute to pain and introduction of infections in the life of innocent children with physical and mental disabilities. We had travelled with our first aid box, we supported the site with a splint and gave him medication to control pain and also treat the wound. The three children are blind. Flavia is the one attending to Kate and Anthony. Arrangements are being made to bring Anthony to Acheru for treatment."
I know that Joyce has been taking a firm line with this family to try to ensure that the children do in fact get the treatment they need.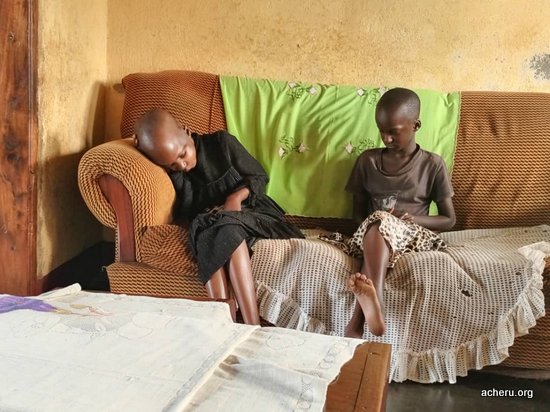 Kate with her older sister Flavia
Refurbishment at Acheru: Our buildings have seen heavy use and this was beginning to show. We have now started a programme of repair and redecoration and improvements including better wheelchair access to some of the buildings. Also, to reflect gradual changes in the balance of the work, some rooms are being adapted for different purposes including nursery education, occupational therapy, and hostel accommodation for longer term rehab patients.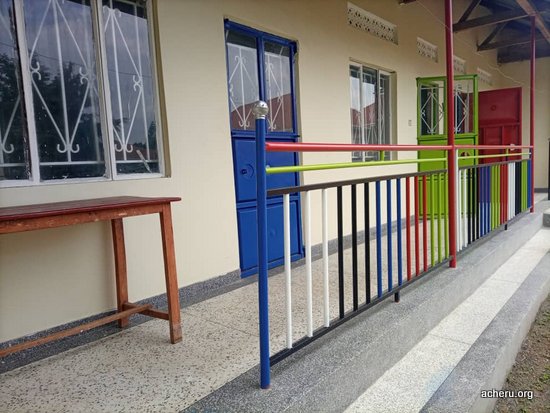 Refurbishment of classroom and hostel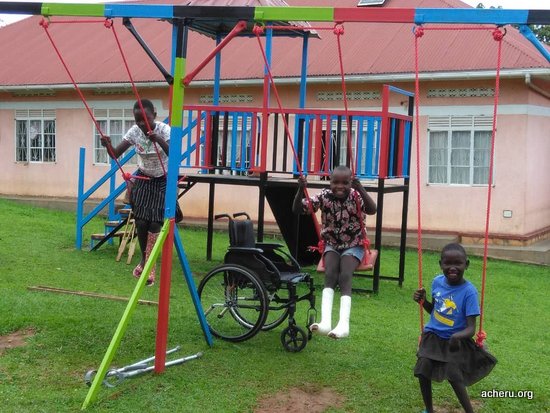 Playground
We rarely send big equipment now due to very high freight costs, but it is still worthwhile sending boxes by DHL with medical supplies which they can't get locally. Although I don't handle so much equipment now, I still get useful supplies from a number of hospitals and this can save Acheru a lot of money. To make up space in these boxes, I send small medical instruments for our partner hospitals and educational resources for the classroom.