July 2023 report: News of some longer term Acheru patients, and two recent ones
Renovation of buildings continues at Acheru, an important requirement being better provision for several older children who have been with us for some time. Obua Eric was found in northern Uganda with a very serious leg wound. He had been suffering for a long time and amputation was only narrowly avoided, but recovery is lengthy. While the staff brought him back to his village for home visits, after the neglect he had previously suffered the situation there is not satisfactory and for now it has not been possible for him to return home permanently so he remains at Acheru while his future is considered.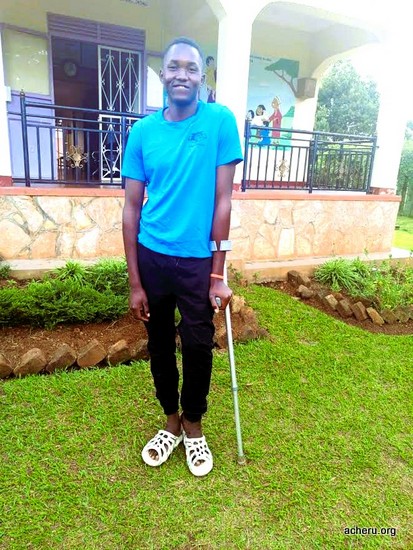 Obua Eric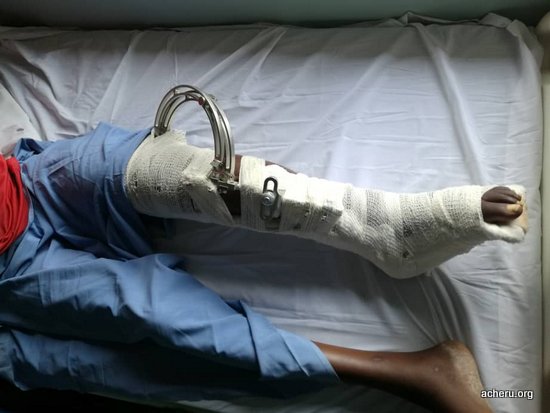 Eric being treated at Acheru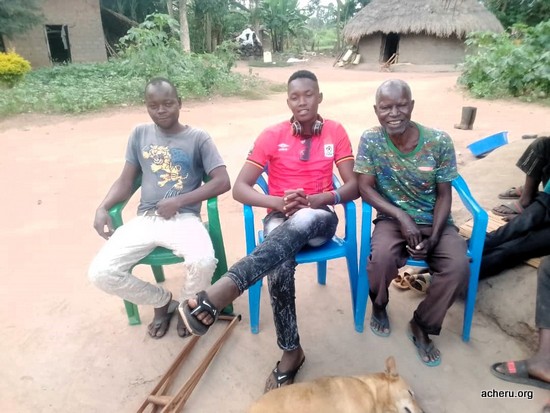 Eric on a home visit
Eric now shares a room with Mubarak, who I've written about a number of times. Several previous attempts to either return Mubarak to his home or place him in a long term rehabilitation unit failed when his medical needs were not met and he quickly deteriorated. The severity of his problems mean he needs to be closely monitored and it is only at Acheru that he can be assured of the care he needs, so we anticipate him being there for some time.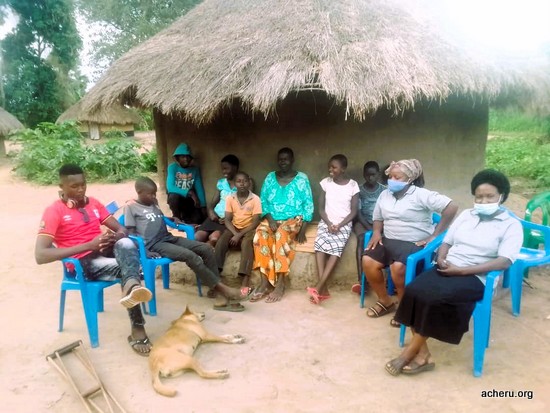 Eric, left, on a visit to his family with Joyce and Harriet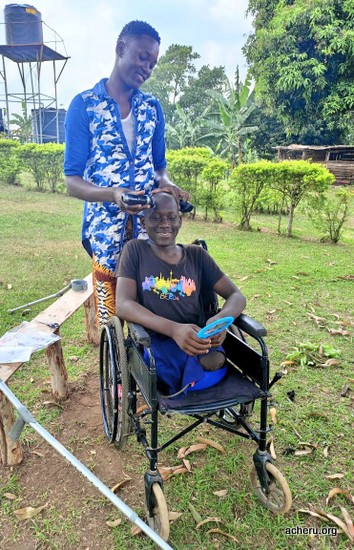 Obua Eric cutting Mubarak's hair
It was a big step when Mubarak was well enough to start school; this was nearby, but he depended on help from Acheru staff to take him there, and on other pupils to bring him back. He enjoys school and quickly made friends, and now we have been able to provide him with a hand operated tricycle which enables him to get around on his own, and he can get to school unaided. He has come through a lot, and there were times when we doubted if he would survive, so it's a great encouragement to see this progress although there are still many uncertainties ahead.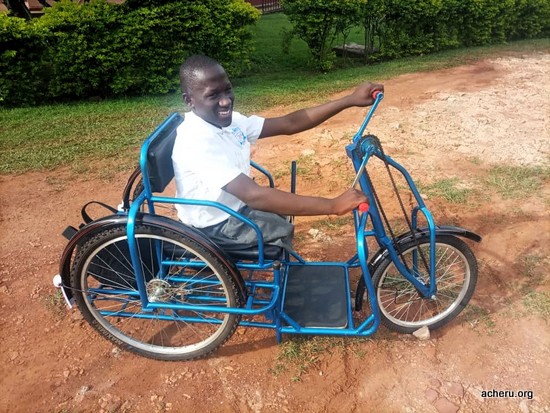 Mubarak using his tricycle to go to school
Update on Aidah: As I reported last month, Aidah was unable to start her internship as the Ministry of Health said they had no money to meet the interns' expenses. This was very hard for all the new graduates, but particularly for Aidah who had already suffered a number of setbacks. We offered to meet her expenses if she could start her internship at the government hospital in Mukono, but this was refused by the ministry as they thought it unfairly disadvantaged other interns who could not afford to meet their expenses - therefore there would be no internships. This is hard for the individuals, but also for the hospitals which would have benefitted.
We hope that Aidah can now go back to her voluntary work at our partner, the Church of Uganda hospital in Mukono, where she can at least continue to gain experience.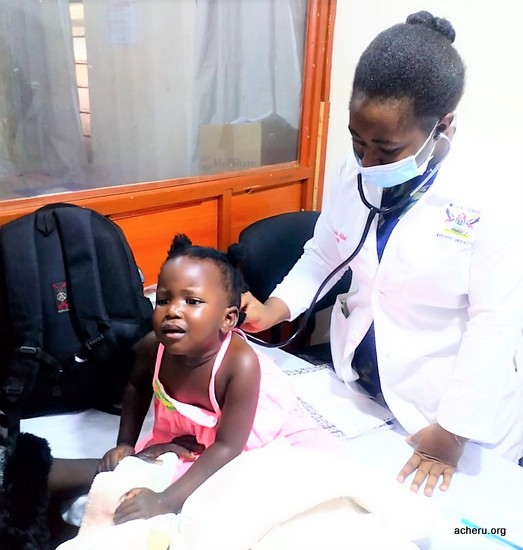 Aidah at the Church of Uganda Hospital
Report from Rose:
CBR Team also helps mothers to come up small business which can help them to support their children. KAMULEGEYA PETER has cerebral palsy, he got cerebral malaria at 5 months and ended up with brain damage. His mother was struggling with taking care of this boy and getting transport to bring him to ACHERU for physical exercises. She says that "I am so happy ever since I met people from ACHERU, they have changed my life spiritually and mentally. I have received the best counselling ever, I did not know how to take care of my child before. Being the only bread winner in the family, I had a lot of stress. Their father left me after giving birth to Peter, he said that he does not give birth to lame children, so everything was on me. Now I am so strong that I have people to talk to when I am stressed, they helped me with the ideas of starting a small business and it is helping me so much"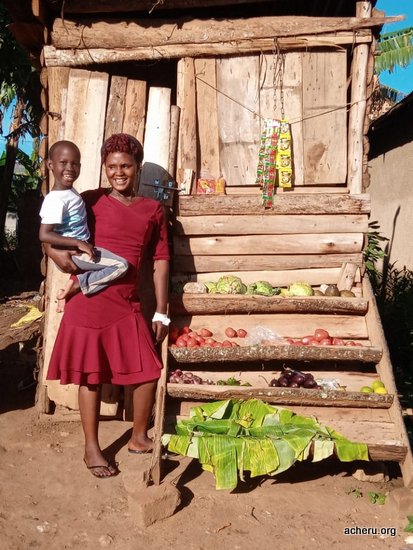 Peter with his mother at her shop
KIGUNDU JAMES was identified by CBR team with malnutrition, he was born with curved feet. He fell sick when still a baby and refused to breastfeed. The young parents did not get the right direction from the community members because they were told that the child was bewitched, instead of going to the hospital they went to local herbalist for some months but there was no change. The baby was not adding weight and he was sick all the time and this when the Acheru team identified them. It was not easy to get the family on track of nutrition program because they had a lot of wrong information from the community but eventually they agreed to try. The team worked in collaboration with a partner organization which deals with nutrition programs. Mother says that "I am so happy for the eye opener I received from ACHERU people they gave me a lot of time to convince me to do the right thing, I almost lost our baby because of ignorance but I thank God for the people who came to us in the right time. They helped us for free until our baby was fine, he gained a good normal weight which was required to start the process of treating the feet. We are so happy that our boy can sit on his own and looking healthy. Thank you GOD, Thank you ACHERU".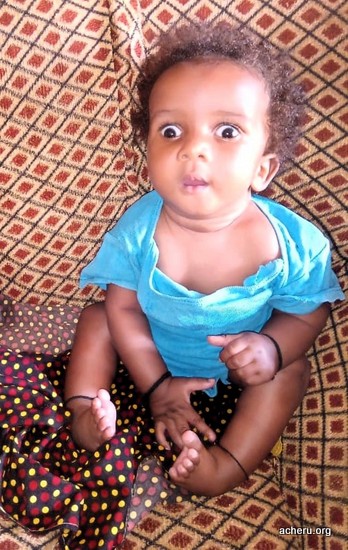 Kigundu James