October 2023 report: Renewal of Acheru registration, and stories of two children
There are a great many charities operating in Uganda; some genuine, some bogus, some well intentioned and telling a good story but not actually achieving very much. Three years ago the NGO Bureau, Ministry of Health and Uganda Registration Services Bureau, concerned about the image of the country being portrayed or possible fraudulent activity, really tightened up on the registration process for non government organisations. This was a concern for us as NGO registration is essential to our relationship with the Ministry of Health and other partner organisations. At that time we still had several years to run on our certificate of registration, but a very large number of approvals were suspended for further verifications. Thankfully, our work was approved and our certificate remained valid.
When that period of registration expired Joyce had to go through a lengthy process of application to establish that our work was genuine, maintained the necessary standards for medical work, and could properly account for all money spent. I was fully satisfied with financial accountability and felt the results spoke clearly of the quality of the work, but that's not the same as having it fully scrutinized by a government department. We were therefore relieved when, at the end of the process, a new certificate of registration was issued for a further five years. This means we have full accreditation from the Ministry of Health and can continue to work in partnership with hospitals, medical facilities, and universities, making and receiving referrals as appropriate.

Acheru registration
This greatly extends the reach of Acheru as we try to locate disabled children and serve as an advocate for disability. Joyce has nurtured partnerships with a range of organisations, some of whom hold their conferences or meetings at Acheru, so the influence of the work done by our staff there is far reaching. Sometimes a staff post is shared with a hospital, and Ugandan and overseas students may also be seconded to Acheru.
COMMUNITY REPORT
NTALO JORDAN 3 months baby from GALIRAYA VILLAGE, KAYUNGA DISTRICT. Jordan was identified during a community follow up in their area.
Father and mother were found in a very terrified state not knowing what to do after giving birth to a child with a half lip. They had no idea of what to do because the child was born in the village not hospital with a help of a local birth attendant who was also green about medical procedures of fixing the lip. It was their first in the village to see a child with such a problem.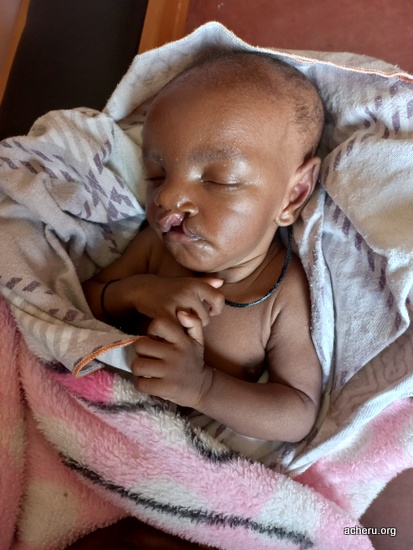 Ntalo Jordan
Parents said "we have been hiding our baby in the house ever since he was born, no one was allowed to see him, but still news circulated in the village that his mouth was half eaten before birth. In both of our families we had never seen a child like that.
"Before coming to Acheru we thought it only happened to us, to our surprise we met four more children with the same issue waiting to be worked on. For us we thought our neighbour who is not on good terms with us bewitched our baby when still in the womb. We felt sorry for the bad thoughts we had on our neighbour.
"Thanks you so much for the encouragement and good words offered to us, It was so hard to convince me as the father about where my child and wife were going without me for the first time. Thank you for enduring all the calls day and night asking the same questions about my family. The counselling I was given all the time calmed my mind and I waited patiently until my child and wife returned home in a very good condition, healthy and happy".
God bless you so much ACHERU.
Written by Rose Nakabugo, Acheru social worker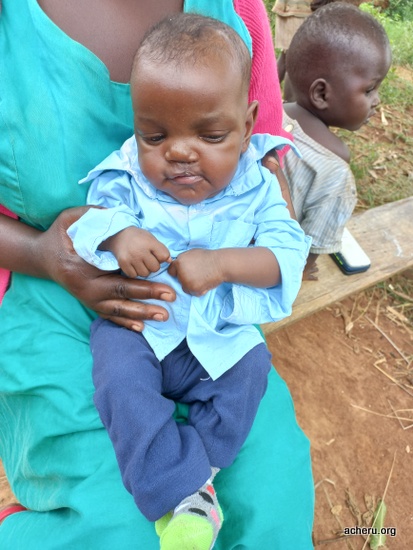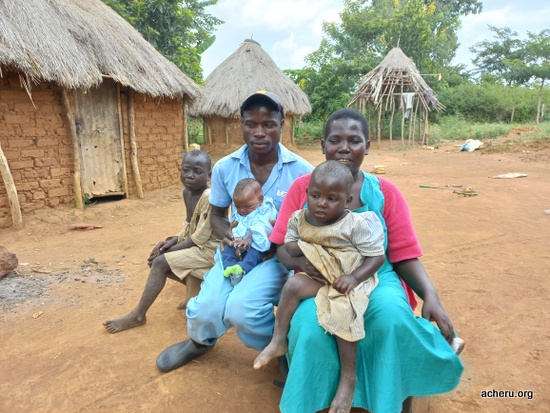 Ntalo Jordan
A case story of Ssenkula Asiraf
Asiraf is an 11 year old boy who was brought to ACHERU on 30th September, 2022 with a complaint of a hyper extended knee with shortening. The condition was noticed when the child was one year old after he caught an unknown disease at four months. Mother then sought medical attention from a clinic where he was mismanaged, and the deformity worsened.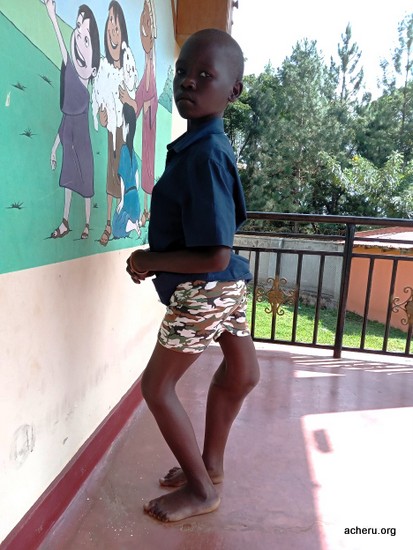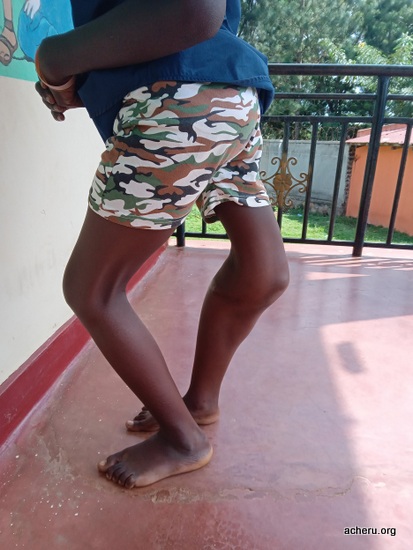 Asiraf
At ACHERU he was assessed and examined and had right leg shortening with knee extension contracture, proximal tibial procurvatum and distal femur recurvatum. He was then diagnosed with Right Anterior Knee Dislocation. Asiraf was taken to Corsu Hospital and also examined by the orthopaedic surgeons and then scheduled for surgery on 18th October, 2022.
Asiraf had right tibia osteotomy and TSF (Taylor's Spatial Frame) applied and then had quadriceps lengthening done. He was later discharged to Acheru on 1st November, 2022 where he had post-operative care i.e. wound care management and strut distractions done. He had different review appointments by the surgeon from CoRSU hospital. However, he had another surgery on 4th January, 2023 (Osteotomy of the distal femur and external fixator adjustment) and then later discharged back to Acheru for continuous post-operative care.
Asiraf had fixator removal and ATL(Achilles Tendon Lengthening) done, had a long leg cast applied on 30/5/2023 and then reviewed on 13/7/2023 when he was given a shoe raise of 4cm on the sound limb to start walking. He was then discharged from Acheru back home and he is now a happy boy and doing well.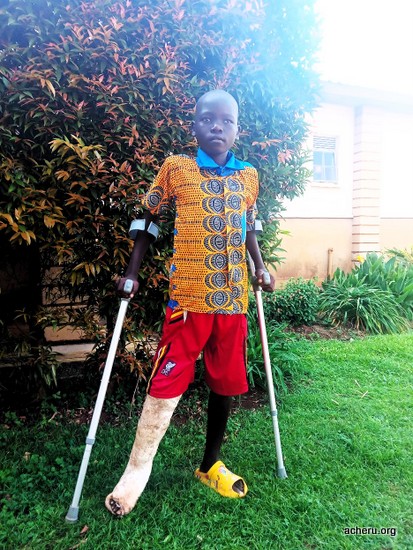 Ssenkula Asiraf in cast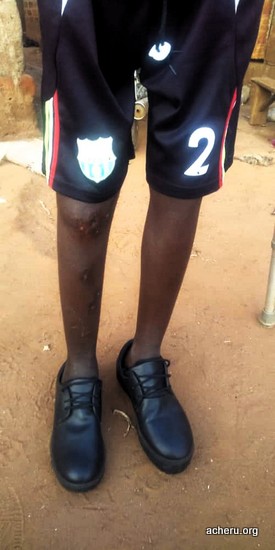 August 2023 Ssenkula Asiraf