November 2023 report: Month Year report: Cleft palate treatment, and news from Salama School for the Blind
Children with cleft lips and palates don't usually need to spend very long at Acheru. They are certainly a lot quicker to deal with than most of the orthopaedic patients. They are admitted to Acheru, referred for surgery, and soon after are returned to Acheru for a short period of rehabilitation. Treatment which utterly transforms their lives.
Not all however are so easily dealt with, and a common problem is malnutrition with the deformity meaning the child hasn't been feeding properly. Such was the case with the following girl, now thankfully restored to health through the joint efforts of Acheru, Noah's Ark (for their nutrition programme), and the surgeons.
A case story of Namugambe Pretty Esther
Pretty is a one year old baby girl who was brought to ACHERU on 10/10/2022 with a complaint of deformed lips. Pretty was born on 2/9/2022 weighing 2kg and mother noticed the condition at birth and child was unable to breast feed well.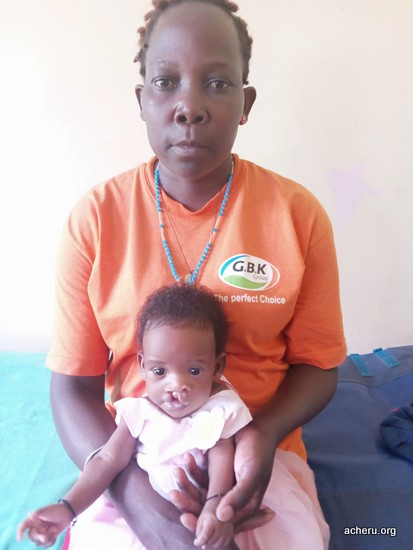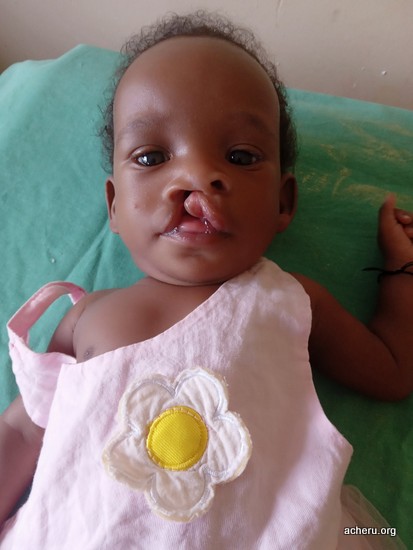 Namugambe Pretty before treatment
At ACHERU, Pretty was assessed, examined and diagnosed with cleft lip and palate. She was then taken to our partner health care provider, Noah's Ark children ministries where she received nutrition rehabilitation.
On 30th November, 2022, she was discharged to ACHERU from Noah's Ark when she was weighing 3.5kg. She was then taken to CoRSU hospital on 1st December, 2022 and advised to continue with nutrition rehabilitation.
Pretty kept on review appointments by the plastic surgeons alongside nutrition support from CoRSU hospital and Noah's Ark respectively as she took long to gain weight before being accepted for surgery. Here she was put on different milk preparations to help her gain weight.
Pretty had surgery done from Mukono General Hospital when she was 10 months and weighing 6.5kg on 24/7/2023. She is good and looking well after cleft lip repair was done. She was then finally discharged back home after a long time while at ACHERU.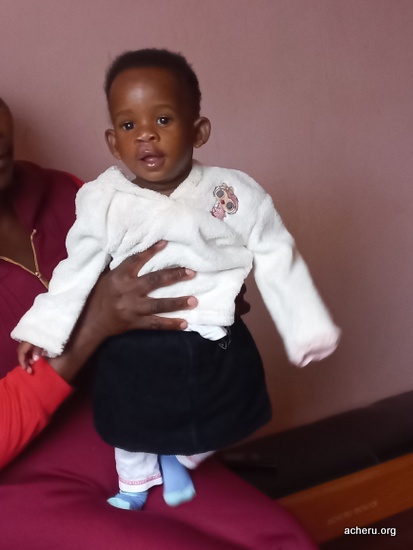 Pretty after treatment
News from Salama:
It is now one year since the tragic fire at Salama. It's not an Acheru project, but there's long been an 'informal' connection to our work, so I was very happy when friends here helped, and we were able to assist in a number of ways in the immediate aftermath, and help prepare the way for a Ugandan sponsor, the telecoms company MTN, to build a new dormitory. This has now been completed ahead of schedule and on 24th October the new dormitory was officially handed over by Janet Museveni, wife of the president. A memorial garden has also been completed.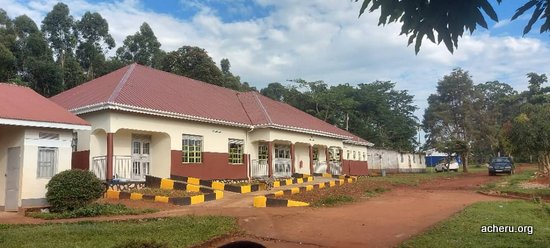 New salama girls' dormitory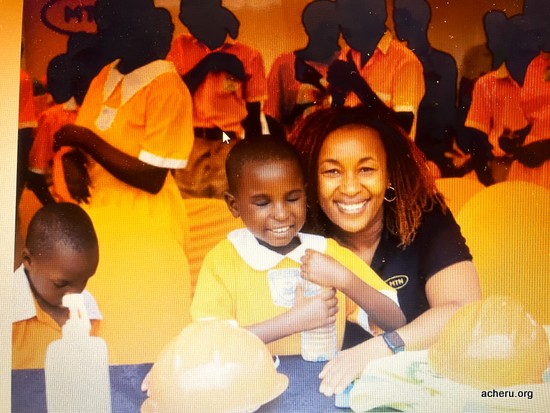 MTN CEO Sylvia Mulinge at handover of new dormitory
This is a big step for Salama, but of course the 'spotlight' soon moves on and there will be other needs. We have been looking at areas of possible cooperation between Salama and Acheru which might benefit children at both locations, particularly looking at what happens after they leave school. We will also be cooperating on Christian education at Salama; although a government school, there's always been a Christian ethos there and we are considering how this can be maintained and developed after all the recent upheaval.
Africare's commitment is to the running of Acheru, and we can't afford to dilute that, but we see benefits in working closely together. I hope there will be more news on this soon, and also on developments in Acheru's work in northern Uganda.